SHARED URBANMICRO PUMPED STORAGE
An energy storage solution to compensate the intermittence of solar and wind power sources.
The challenge of intermittent energy sources
WATCH THE VIDEO
THE FOUNDER
Denis Payre
Denis Payre is a French entrepreneur. He graduated from ESSEC Business school and founded Business Objects and Kiala, two innovative, fast-growing companies with worldwide recognition and now global competence centers of large corporations SAP and UPS. He has also co-founded not-for-profit organization "Croissance Plus", has funded and coached numerous startups and co-founded political organization "Nous Citoyens".
> WATCH THE VIDEO
THE EXPERTS
ACCOMPANYING HIM
HPP: Hydro Power Plant
HPP is a French company specializing in the conception, manufacturing, installation and launch of small hydroelectric turbines on all continents since 1972. Louis Tinchant, the great grand-father of the present CEO, started the construction and exploitation of hydroelectric power plants in 1906. HPP has brought technical expertise in the conception of the Nature and People First process.
THE EXPERTS
ACCOMPANYING HIM
Beau de Loménie Agency
The Beau de Loménie agency assists companies with their legal and commercial departments, helping them set up their strategies for intellectual property and patents. The Beau de Loménie agency is a worldwide leader on the segment of electrical production industries and has assisted Nature and People First to file their patents in over 60 countries.
THE CHALLENGE OF INTERMITTENT ENERGY SOURCES
SOLAR AND WINDPOWER
Solar and wind power sources are bound keep on expanding significantly. They are renewable and clean but production is not constant. Their variations are not easy to forecast and don't match with the peaks in electric consumption. This, in turn, puts pressure on the electrical network, increasing the risk of blackout.
VARIOUS STORAGE
SOLUTIONS
Storing energy compensates the intermittence of renewable power sources. Various methods of storage exist : batteries, compressed air / hydrogen plants or pumped hydroelectric storage through large water containment facilities (PHS)
PHS
or PUMPED HYDROELECTRIC STORAGE
The principle of Pumped Hydroelectric Storage (or PHS) has existed for over a century. A large quantity of water is pumped and stored in an upper reservoir. This water goes downhill through a turbine to produce electricity when demand is high and water is then stored in a lower reservoir.
THE NATURE AND PEOPLE FIRST SOLUTION
SHARED URBAN MICRO PUMPED STORAGE
Nature and People First has imagined an energy storage solution that integrates to the urban environment : the implementation of small pumped hydroelectric storage plants underground, under the buildings or parking lots. The energy is stored through a 100% renewable process, directly on-site of consumption, enabling electrical network managers to deal with consumption peaks without relying upon polluting complementary energy sources. A Shared Urban Micro Pumped Storage consists of two water reservoirs separated by natural elevation and connected to each other through a penstoke. The system is then completed with a water pump and a turbine. The pump is turned on during production peaks, allowing for water storage in the upper reservoir. During consumption peaks, water is released towards the lower reservoir, moving the turbine and producing electrical energy.
will benefit from this clean energy with a unit that has a generating capacity of 4 Megawatts.
are sufficient between the two reservoirs of a Shared Urban Micro Pumped Storage, with a minimum slope of 5% and reservoirs of 175,000 cubic feet or a minimupm capacity of 5,000 cubic meters each.
The generating capacity of a Shared Urban Micro Pumped Storage is beetween 100 Kilowatts and
THE benefits
OF THIS STORAGE SOLUTION
Just like traditional PHS, Shared Urban Micro Pumped Storage are very durable : one unit will last at least half a century. However, contrary to traditional PHS, Shared Urban Micro Pumped Storage do not require dedicated land and have thus no impact on the environment. They do not grab land to the detriment of agriculture or urban development either. They can be deployed without facing hostility. Shared Urban Micro Pumped Storage enable a mutualization of the costs to create foundations for new buildings and water reservoirs within these foundations. This is lowering the investment required in the construction of new buildings hosting reservoirs. It is also providing a new and unexpected source of income for the land owners. Being close to where energy is being consumed, Shared Urban Micro Pumped Storage enable a reduction of the investments required in power lines. It's a very robust storage solution that does not create any risk a fire, contrary to all other storage solution. The energy produced is 100% renewable, fossil fuel-free and does not produce any toxic waste.
Additional
applications
OF THIS WATER NETWORK
Each Shared Urban Micro Pumped Storage is a closed loop water network in itself : water is not consumed, it is stored and re-used at each cycle. It can be grey water. Integrated in the foundations of buildings, the storage reservoirs may be used as thermal reservoirs for heat pumps and/or ventilation systems. It can also be used by firefighters and for sprinkling purposes by enlarging slightly the reservoirs.
A FLEXIBLE SOLUTION
Shared Urban Micro Pumped Storage can be adapted to both old and new buildings. The reservoirs can be placed within building foundations for residential or commercial buildings, under a parking lot, under an industrial zone, under a sports complex or under a road. They may even be adapted to existing reservoirs as, for example, drinking water reservoirs, without altering their initial function and with a low impact on the water level. The same system can be installed in rural areas by using existing farming water reservoirs or torrential rain water reservoirs. This can be achieved by increasing the capacity of these existing reservoir. Installing a water storage reservoir under an existing parking lot can bring this falicity an additional source of income.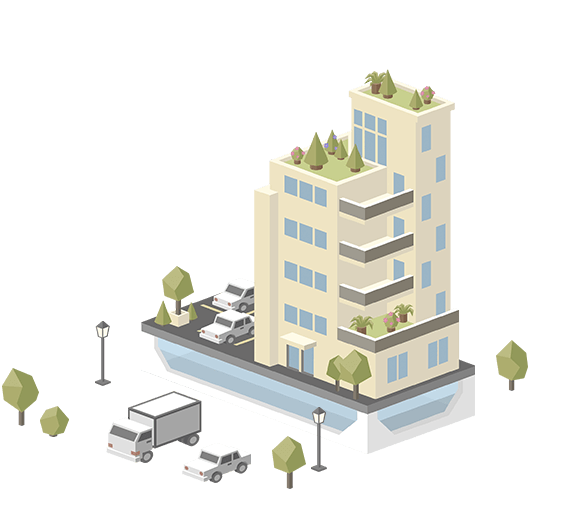 ENERGY AUTONOMY ON A CITY SCALE
Shared Urban Micro Pumped Storage are an ideal energy storage solution for energetic islands. Each unit generates between 100 kilowatts and 4 megawatts. Dozens of units may be installed in cities, enabling them to store hundreds of megawatts in their underground. These storage capabilities greatly contribute to the development of solar and wind farms by compensating the intermittence of the production. Shared Urban Micro Pumped Storage are a step towards local energy autonomy thanks to its 100% renewable energy storage, made available on site, at the right time.
A HUMAN AND SOCIAL
PROJECT
Nature and People First aims to add a positive social impact on communities where integrated Shared Urban Micro Pumped Storage are implemented. The construction, surveillance and maintenance of the installations will create jobs, and our aim is to have a quarter of the jobs created come from challenged backgrounds. Nature and People First is also committed to redistribute one quarter of its profits to support local social projects.
Nature and People First Model
Nature and People First's objective is to sign partnership agreements with developers of renewable energies having an expertise in hydroelectricity. Under these agreements, the developers will be allowed to build and operate sites using the Shared Urban Micro Pumped Storage technology patented by Nature and People First. Nature and People First will act as the facilitator of a community of renewable energy developers supporting the Nature and People First technology. This will happen in particular through the promotion of the technology in conferences and trade shows, by organizing exchanges of best practices between developers on Power Purchase agreements negotiations with Off-Takers, on legal and regulatory issues, on technical implementation matters and on the setup of financing solutions. Nature and People First may even provide funding solutions to projects using the Nature and People First technology.
Promoting the technology at
conferences and trade shows
Supporting negotiations of Power
Purchase Agreement with Off Takers
and organizing exchanges of best practices
Help in financing projects
Organizing exchanges of best practices
for technical implementations